Saariselkä is a small village in the municipality of Inari in northern Finnish Lapland.
The village, which is only 30 kilometres from Ivalo, is one of the most important winter sports centres in the region.
Things to see and do in Saariselkä
Nature and picturesque scenery are undoubtedly Saariselkä's main tourist attraction.
Many tourists flock to the town every year to see the Northern Lights, which are most likely to be seen in the colder months.
Urho Kekkonen National Park
Urho Kekkonen National Park covers an area of 2,550 square kilometres, making it the second largest national park in Finland.
The park is home to the remote Korvatunturi Hill, known among Finns as the home of Father Christmas.
The areas closest to Saariselkä tend to have many visitors, especially tourists on day trips. The rest of the national park is much quieter and it is possible to enjoy other trails and wilderness huts.
Kiehinen is a free exhibition about nature and hiking trails in Urho Kekkonen National Park. Here you can get advice on hiking in the area and apply for fishing or snowmobile trail permits.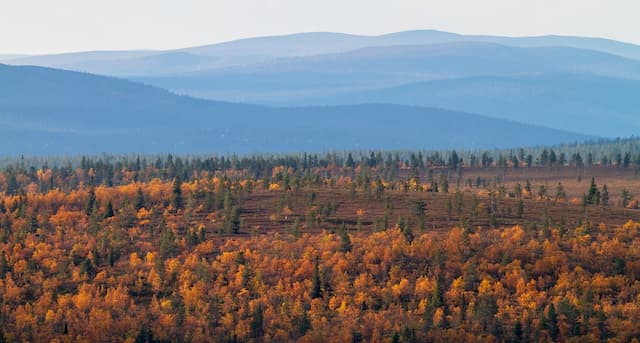 North Village St. Paul's Chapel
North Village St. Paul's Chapel or Pyhän Paavalin Chapel is an ecumenical chapel located in the village of Saariselkä, which was completed in 1996.
The chapel, built mainly of logs, can seat more than 200 people. Its altarpiece has a window from which the forests surrounding the church can be seen.
In addition to holding religious events, Saariselkä Chapel also frequently hosts concerts by some of the country's most popular singers.
Winter activities in Saariselkä
There are numerous activities that tourists can enjoy during the winter. Reindeer sleigh safaris and snowmobile tours are two of the most popular activities for tourists.
It's also possible to go snowshoeing in the countryside, ice fishing on one of the area's lakes or even spend the night in a cabin in the middle of the wilderness.
Winter sports in Saariselkä
The mountains in the area are excellent for all kinds of winter sports, such as cross-country skiing, tobogganing and hiking.
The Kaunispää and Iisakkipää hills, located very close to Saariselkä, are the main winter sports slopes.
If you want to go hiking, there are about 200 km of marked routes and trails around Saariselkä, as well as 250 km of ski slopes.
How to get to Saariselkä
The easiest way to get to Saariselkä is to fly from Helsinki to Ivalo Airport, the closest airport to the village. From there, Saariselkä can be reached by bus in just 20 minutes.
The train is also a good way to get to the town, especially the night train to Rovaniemi. After that, it's a three-hour bus ride to Saariselkä.
There are also direct bus services from Helsinki and other cities in the south of the country, although the journey time is about 15 hours.
How to get around the town
Saariselkä is a small town, so you can walk everywhere. You can hire a car to visit some of the towns and cities in the area that are a little further away from Saariselkä.
If you need to transport equipment for skiing or hiking, you can use the Ski Bus, which connects the town to the ski slopes with hourly routes.
Where to stay in Saariselkä
Saariselkä is a very touristy town, so you should have no problem finding accommodation to suit your budget and needs.
In addition to hotels in different price ranges, there are some camping areas in Saariselkä where you can stay in a tent or caravan for a fairly cheap rate.
Keep in mind that during the peak winter season you will find the highest prices for accommodation, so we recommend that you compare the different prices before making your choice.
Where to eat in Saariselkä
As in many parts of Lapland, the food in Saariselkä is quite expensive and doesn't offer much variety. However, we recommend trying reindeer meat, one of the country's most popular dishes.
Another experience offered by some hotels and restaurants is to dine in a Kota, a traditional Lappish hut, where you can try some of the area's most traditional dishes.
We hope our guide to Saariselkä will help you prepare for your trip to the town. We invite you to share this article on social media using the buttons below. And if you have any questions, you can use the comments section to ask them.